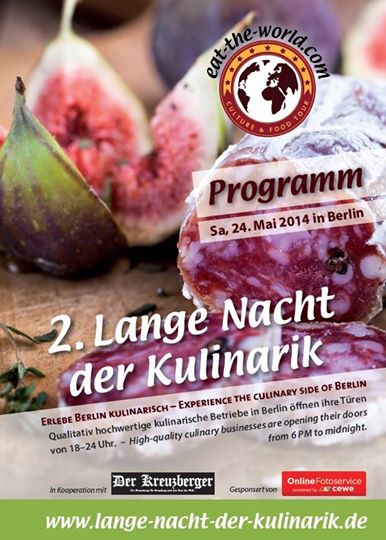 Dear participants,
Thank you very much for your registration. It helps us make an educated guess about what to expect for this Saturday. From 6 p.m. to midnight we hope to spend a great culinary evening with you!
At last we would like to give you some tips for the event. That way you can relax and focus on the program and the food.
You can choose which district and culinary partner to visit first. It might be best to consult the program on our website in advance to plan ahead. Here's the link for the program (PDF Format)
The first culinary station will provide you with a program brochure (with an English translation) and a map that you can take along on your journey
The participating establishments will have red balloons at their doorsteps
Entrance is free, only the food has to be paid for (1-3 Euros)
There will also be a little lottery. If lucky, you can win cards for our eat-the-world culinary tours or coupons for photo products by OnlineFotoservice powered by CEWE. The competition card can be picked up at any station. There are 5 empty fields on it; every restaurant you eat at gives you a stamp. As soon as all boxes are filled, you can hand in the card at any culinary partner, thereby participating in the lottery.
Be aware: It is very well possible that there might be a lot of people at one partner at the same time. In that case you will have to wait for a little bit. If it gets too much, we recommend to visit the next establishment and come back at a later time. (Especially the previously scheduled program items might be overflown at certain times.)
To stay up to date, you can follow our activities on Facebook and Twitter (# lndk14). We will be in every district, reporting live what is happening. You are also welcome to report and upload your own pictures! We look forward to every statement!
Naturally the culinary partners can only provide for as many people as there is food. All establishments are, however, trying to meet everybody's wishes.
Of course you can invite friends, family members and other acquaintances that have not registered before. The more the merrier!
By the way: We would like to kindly ask you to give us some points of feedback after the event. A short survey will be available from Saturday night onwards.
We hope to spend an exciting and delicious evening with you!
Kind regards from the eat-the-world Team